How to make Coffee?
Today, I am here to help you learn some interesting stuff about " the second most traded commodity on this planet". Any guesses?
No, it's not sex 🍑🍌.
Yeah…. As some of you might have guessed by now – it's coffee.
So, Today we are here at Kaffa Cerrado in Okhla, it's one of the coolest cafes in the Delhi neighbourhood. Just pop up your phone and ask the Google voice assistant "Hey Google, Kaffa cerrado near me".
Let's just dive in and make a tasty cup of hot coffee.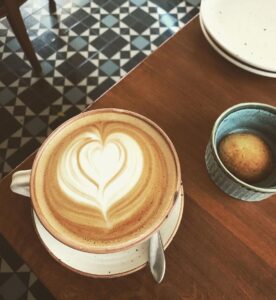 For your information, they serve more than 10 types of preparations ☕️ with personalisations in terms of beans, roast, and milk. Which is too much to even have one in a month set aside a week. So we wish to make an authentic cup of cappuccino. What are we waiting for? Let's get going
So to make a steaming cup of cappuccino we need some core ingredients:
Some Coffee: which is Kaffa Cerrado house blend: Indian Brazil + Ethiopian – "a must-try"

Fresh ice-cold milk: you can vary it as per your taste, diet, and consumption behaviors. I prefer full cream, you can pick from almond to skimmed to soy. But, be sure as milk can change the flavour of the coffee big time.

Water that is supplied to your equipment > which is Astoria in our case, it's an amazing Italian coffee machine manufacturing company.
The best way to learn cappuccino 👆🏻is to keep a healthy mix of espresso shot to milk to milk-foam. Will elaborate more onit, in my upcoming blog. 
Next step, we need to have a portafilter with freshly grounded coffee. We have to keep in mind the weight of the grounded coffee for avoiding loss of taste for a fine cuppa coffee.
3 things you need to keep in mind is:
Content: Amount of coffee in the filter
 Yield: the amount of liquid going into the cup
Time: it takes to collect the yield in the cup
Then take the milk, there are two things that need to be followed:
The steamer nozzle needs to be as per your milk surface, once you attain the milk volume (by creating foam) by the steam infused in the milk 
Bring the milk up in order to up the temperature of the milk and get the sweetness to it
One caution point 💀, a lot of time we request the barista for a piping hot cuppa coffee. One suggestion, you shouldn't, let him make the best he can for you. By overheating the milk, you tend to disrupt the flavor of the milk which eventually disturbs the flavor of the yield and you not tasting the right coffee  
Going back to the scene > while you steam up the milk (and mind you it is a quick process, so you need to be really on it) then tap it on the counter twice and give it a good swirl – it is usually termed as polishing, as it converts the rougher texture and gives it a good polish 👌🏻👌🏻.
Let's go on the latte art and I am warning you on this one 😂😂. I have personally tried it more than a dozen times and it seriously requires some practice. Obviously taste of coffee elevates if the art looks great, but the taste is important than how it looks. So focus on above mentioned points and I am sure you will get a decent cup of coffee. As you can see in the video (if you have watch it till the end – the awkward me 😝). 
Now, Scroll down and explore more.